Reticence
36″x24″
Oil on Canvas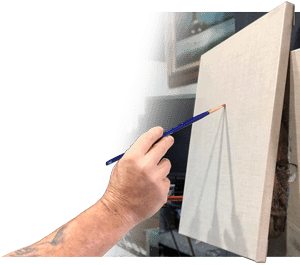 This project began as an exercise in applying glazes. Glazing is a technique that is most commonly used in portraiture, but can be applied in any situation where you are looking to add depth or "atmosphere" to a painting. With glazing, you will apply numerous combinations of transparent colors to arriver at the final desired color (for example, applying a red glaze over a yellow one results in shades of orange, etc.). It's a lot like painting with watercolours.
Painter's Tip: In order to maintain a fat over lean structure, it's a good idea to mix a few different mediums in progressively thicker batches, to be used in sequence. Example: I mixed 3 mediums for this project; basically #1 for the underpainting, #2 for the glazes, and #3 for the final details and highlights. Any last minute details can be done with straight paint  (no medium).
In the Studio section, I provide a "Recipe" so you can purchase the materials to mix your own mediums if you desire. You can find everything at art supply stores or art supply websites. Amazon carries a ton of different stuff, and if you can get something that has multiple applications you can save a lot of money if it doesn't say "art" on it. Example: I buy Lavender spike oil on Amazon. Since it can be used for aromatherapy, massage etc, I save a LOT of money compared to art sites. If you do you homework on materials and you'll get more bang for your buck.