Eagle Eye
16″x20″
Oil on Canvas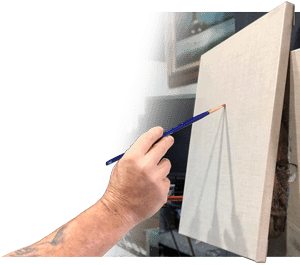 Eagle Eye is a bit out of my wheel house. Actually, it's a LOT out of my wheelhouse. Here's how it came about. 
I was doing the ArtStir in Denver and met a really nice guy from London named Malcolm. He hung around for awhile, and my wife and were having a great time chatting with him. He was blown-away by how beautiful Colorado is and told us he had seen a bald eagle swoop down and grab a fish from a lake he was visiting.
He said "I don't suppose you've got anything like that lying around have you?" I think I replied with some bad pun like "not really my cup of tea". My wife chimed in and told him "Dave can paint that for you, he can paint anything". I winced inside, but told him that indeed I could do that for him. (my wife doesn't usually throw me under the bus, but like I said, he was a genuinely delightful gentleman!) He gave me a deposit right then and there and was back off to England the next day.
Nothing against eagles and other critters, but I'm not really a "pet portrait" kind of guy! However, I approach every project as a learning class. I learn as much as I need about the physical properties of the animal (feathers, fur, teeth etc,) and work out how to paint those.
Every project teaches you something! I learned a lot by doing this piece and found new ways to add subtle colorings that would not be found in hyper-realistic paintings. This makes it more in keeping with my style, and more fun to paint.
Prep: Step 1
I took a very simple approach to the underpainting on this one. 

I used shades of blue in the areas that will end up white, and yellow in the areas of brown, etc. Those colors can tint the final oils to "hint" at a color direction if desired.

Since the sky colors will also be prominent in the water, I have white in both of those areas. I will do a light background that runs over those sections in oils. Then all I have to do is add some color washes over the water portion at the bottom to establish where the sky meets water.