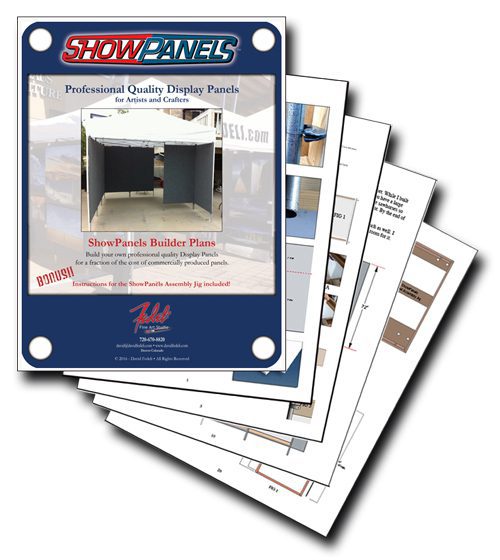 PROFESSIONAL QUALITY DISPLAY PANELS
ShowPanels DIY Builder Plans
What you will Build.
A 10'x10′ Indoor/Outdoor Display, which consists of;
A total of Nine 38.5″wide panels.
• The panels form a 115.5″ square walled-area, which fits just inside a 10'x10′ canopy.
• Wall panels are 80″ high, with a 70″ tall hanging area.
• The frame & legs are galvanized steel, with levelers for use on uneven surfaces.
• Hanging surfaces are wrapped with a Polyester Stain resistant carpet*.
Three Overhead Support bars
• Made of galvanized steel, these supports provide increased overall strength.
• Supports can also make the entire display free-standing. Ideal for indoor shows where a canopy is not required.
© Copyright 1996-[hfe_current_year] – David Fedeli Fine Art • All rights reserved
© 1996-[hfe_current_year] – David Fedeli Fine Art • All rights reserved