Inside the Studio >  On the Easel: Current Projects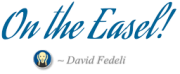 Projects that are currently On the Easel are listed below. You can click on the links to follow the progress of each painting. If you have a commissioned piece, you can follow the progress here and communicate with me directly throughout the process.
There is currently space available on the easel for YOUR masterpiece. Contact me to find out more. Commissioning a work of art is easy, and fun. © Copyright 1996- – David Fedeli • All Rights Reserved …
READ MORE
VISIT THE PROJECT ARCHIVES…
There are close to 100 paintings in the Project Archives, and lots of information about the materials and techniques used.
"I shut my eyes in order to see"
— Paul Gauguin
© 1996-2020 – David Fedeli • All Rights Reserved.